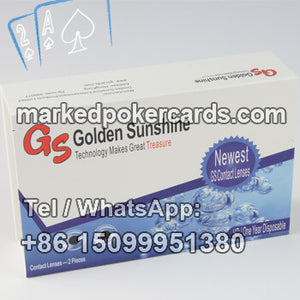 DESCRIPTION
| | | | |
| --- | --- | --- | --- |
| Center diameter | 4mm ~ 5mm | Water content | 37.2% |
| Oxygen permeability coefficient | 6.8DK | Full diameter | 14.5mm |
| Base Curve | 8.5 | Life span | 1 year |
| Packing | 2 pcs / box | Brand | GS |
What is the function of Infrared Contact Lenses
The lenses that are specialized in reading the invisible ink marks of the infrared marked cards are the infrared contact lenses, which are quite different from the normal contact lenses in function. You can see the marks neither with a naked eye nor with other contact lenses. In this way, they are the best cheating tool for games such as Texas Hold'Em.
Produced thanks to the newest technology, these are the lenses with which you will be able to see the invisible ink on the back of the infrared marked cards. The UV lenses, for example, won't give you the possibility to see the marks, as the technology used for the UV and the IR contact lenses is different. No matter if the marked cards are plastic or paper, you can also see the marks when you wear infrared contact lenses. Moreover, you can detect the marked cards if there are some people who use the marked playing cards, so you can defect yourself from cheating.
High-quality Infrared Contact Lenses
The IR contact lenses won't change the color of your eyes and it's no different in appearance compared with the normal contact lenses. Wearing our high-quality infrared contact lenses, you can see any type of infrared marked cards, including UV and IR ink. Also, these lenses won't harm your eyes, even after hours. Just simply put on a pair of these infrared contact lenses in the same way as put on normal eye contact lenses. The light you are under doesn't matter as well: yellow, white or red, the clarity of the marks will be the same.
Welcome to contact us if you want more information and details about our products.
---
Share this Product